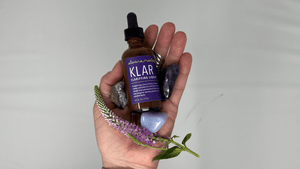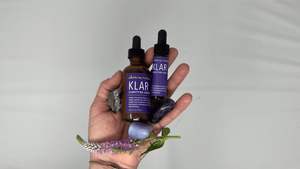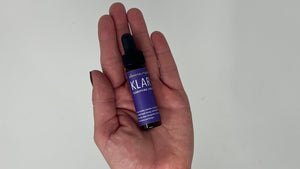 KLAR Clarifying Liquid
In Swedish, KLAR is the word for "clear". Our unique clarifying liquid facial clay is thin enough to be worn all of the time and doesn't need to be washed off.  It takes the place of those thick, cracking masks and is thin enough to wear all night or under makeup with a sheer matte finish.
This unique mix of ancient clays and calming plants offers the skin a foundation for clarity.  The clays are blended in a super-secret mix with our proprietary Vinoflora (pressed grape seeds and skins + botanicals and fruit acids).  
Created to spec based on our clients' feedback and needs, KLAR is bound to become your absolute favorite "all-in-one" product.  
Skin type: ALL 
______________________________
Use and Details: 
Use generously all over the face as an overnight masque or use as a spot treatment for acne or to rebalance oily or combination skin. Use as needed for breakouts. Great for all ages to calm burns, stings and rashes. Cooling and soothing for sunburn.
14 g Mini 
2 oz Full Size 
2 oz + 14 g Duo 
Ingredients: 
European clay mix, coconut, tamanu, moringa, rosehip, and daikon oils, witch hazel, PacNW honey, colloidal silver, and essentials of niaouli, hyssop, clove, bergamot, rosemary, grapefruit, lemon, and white thyme.