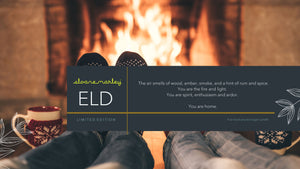 ELD Limited Edition Candle
SOLD OUT FOR NOW.
ELD means fire or light, spirit, enthusiasm, flame, or ardor.
You'll get swept away by the romance and power of this candle, which evokes a romantic winter fire, and the fire inside all of us. I custom blended this scent with essences of cardamom, tonka bean, and bay rum, anchored with sandalwood, amber, and smoke.
It smells exactly like sitting by a fire, under a cozy textured blanket, cuddled up with a hot spicy drink and someone who smells really good. Made with skin-safe coconut wax and 100% natural candle-safe fragrance.
The candle is an eco-safe coconut wax with skin-safe natural fragrance.  When the candle is newly put out and the wax is warm, you can apply wax to pressure points as a natural perfume.
Limited Edition = Limited Quantities!
9 oz:
In SLOANE MARLEY signature amber glass with a bronze lid, this candle will burn 30+ hours.  
Use instructions:  Never leave a candle unattended.  Warm wax and natural fragrance are skin-safe.  Feel free to rub a little on your wrists to take the scent of ELD with you.  For the safest and cleanest burning, always keep the wick trimmed to approximately 1/4 inch.