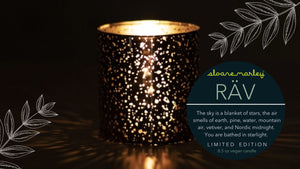 RÄV: Limited Edition Candle
SOLD OUT!
Please look for our new limited editions coming Summer 2023. Dates and details TBD.
RÄV means "fox" and is our celebration of the Nordic legend of the "fox fires" which is a name for the Northern lights.
A fox dashed across the tundra and his tail created sparks as it brushed the peaks of tall mountains, and the Northern Lights were born. The night sky is a blanket of stars, this candle smells of air, earth, pine, water, mountain air, vetiver, and Nordic midnight. 
With this candle we usher in the Spring, the longer days, and the earth birthing new plants through a blanket of pine needles and the last of the snow.  The candle vessel is a smoked silver mercury glass, which looks burnished and beautiful when unlit, and shines like a blanket of mercurial stars when lit.
RÄV smells like a crisp spring night, where the air is cold and you can smell nearby lake water, fresh grass, and the blanket of pine needles waiting for new plants, flowers, and the buds of new trees to push through. I custom blended this scent with essences of vetiver, pine, cypress, cedar, rosemary, fresh grass, sea minerals, and wood.
Made with skin-safe coconut wax and 100% natural candle-safe fragrance.
Our candle mentor and teacher is custom eco-candle maker, Ianthe Mauro, whose candles have been featured on the Today Show and in Oscar Swag Bags.  
The candle is an eco-safe coconut wax with skin-safe natural fragrance.  When the candle is newly put out and the wax is warm, you can apply wax to pressure points as a natural perfume.
Limited Edition = Limited Quantities!
ONLY 30 WILL BE MADE = 8.5 oz / smoky gray mercury glass with gray lid 
ONLY 30 WILL BE MADE = 3 packs of 1.5 oz travel candles in silver slider tins
8.5 oz:
These gorgeous smoked silver jars are reminiscent of a starry sky as the warm glow of candlelight glimmers through the mercury finish. Made from blown glass to form a smooth and seamless finish, and then painted.
Use instructions:  Never leave a candle unattended.  Warm wax and natural fragrance are skin safe.  Feel free to rub a little on your wrists to take the scent of RÄV with you.  For the safest and cleanest burning, always keep the wick trimmed to approximately 1/4 inch.