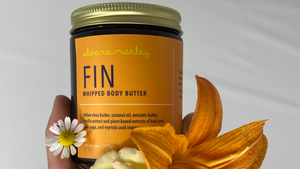 FIN Whipped Body Butter Bulk / Spa Size
In Swedish, FIN is the word for "delicious".
Most of us neglect our skin and don't moisturize it enough.  
Our whipped natural body butter is your number one option to replace all other lotions and body butter.  Handcrafted with deeply nourishing shea butter, avocado butter, and a dash of cocoa butter, guaranteed to melt into your skin like...well...butter.  You're likely to get super hooked on this right-out-of-the-shower solution for dry skin. With essentials of basil, sage, vanilla, bergamot, and petitgrain, you'll smell good all day. 
Skin type: ALL 
______________________________
Use and Details: 
Use generously all over body, particularly on legs, feet, elbows, and hands.  Great right out of the shower or in the evening before going to bed.
Use SJÖ Moisturizing Scrub before FIN for exfoliation and maximum moisture.   
32 oz glass jar with lid
Ingredients: 
Yellow shea butter, coconut oil, avocado butter, vanilla extract + plant-based extracts of basil and blue sage, and myristic acid isopropyl ester.