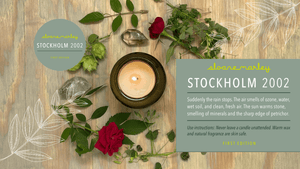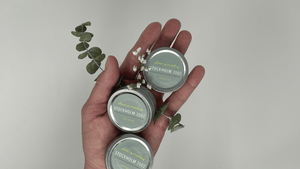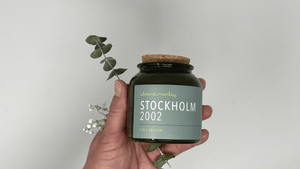 STOCKHOLM 2002 : First Edition Candle
NOW IN STOCK!
NOTE: We are making limited edition scent collections.  Quantities are VERY limited.  Only 100 total large candles and 50 mini trios were made, and when they are gone, they are gone for good.
STOCKHOLM 2002 is an ode to one of the world's most beautiful cities and to my visit there in 2002.  It happens to be one of the rainiest cities as well.  I have longed for and searched for a candle that actually smells like a tree-lined city street after a hard rainstorm.  I found the answer by partnering with custom eco-candle maker, Ianthe Mauro.  

The candle is an eco-safe coconut wax with skin-safe natural fragrance.  When the candle is newly put out and wax is warm, you can apply wax to pressure points as a natural perfume.  
8oz:
Nestled in a gorgeous 8 oz vintage green glass jar with a natural cork top, this candle will burn for between 30-40 hours.
1oz tin / 3 pack for sharing: 
3 perfect minis with round labels for travel or when you're on the go.  Share with friends and family.
"It's been raining hard for hours, and suddenly it stops.  The clouds part and the sun shines through. The scent of ozone and clean air, water, and wet soil.  The sun warms stone walkways mixing warm minerals and the sharp edge of petrichor."
Use instructions:  Never leave a candle unattended.  Warm wax and natural fragrance are skin safe.  Feel free to rub a little on your wrists to take the scent of STOCKHOLM 2002 with you.  
Eco-sensitive coconut wax candle by Ianthe Mauro for SLOANE MARLEY
™️