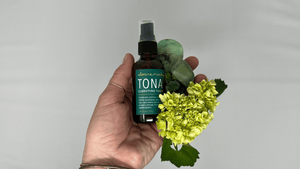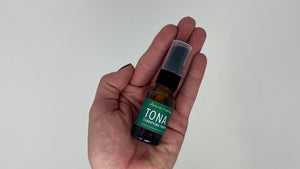 TONA Clarifying Toner
In Swedish, TONA means "tone".

This clarifying mist both tonifies skin and sets the tone, creating a superior build from clean skin to moisturized skin, putting the skin back to balance, normalizing flora and conditioning skin without oil.
With natural clarifying and lightly exfoliating properties together with our proprietary Vinoflora (pressed grape seeds and skins + botanicals and fruit acids), and rich in resveratrol and anti-oxidants. This refreshing toner cools, removing all traces of residue and environmental toxins.
A few spritzes have your skin heading right back to a native state of balance, renewing the natural environment your face desires.   
Cruelty-free, highly effective, active, botanical, and wildcrafted.
Skin type:  ALL
______________________________

Use Instructions:

Use morning and night on clean skin with cotton balls to remove residue. Also useful as a midday spritz for face and body in hot weather, as a deodorizing treatment for second day hair or beards, and left on skin as a light moisturizer.  Ideal one bottle solution to be shared by partners in a bathroom or for travel.

Ingredients:
Distilled water, witch hazel, chamomile distillate, raw kombucha, apple cider vinegar, hops, organic alcohol, vegetable glycerin and essentials of niaouli, clary sage, lavender, and rose.