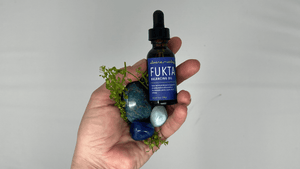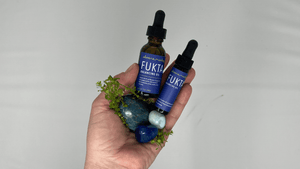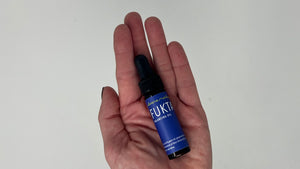 FUKTA Balancing Blue Oil
In Swedish, FUKTA means "moisture".
Silky and luscious, this wild-harvested rich blue facial oil holds natural moisture and protects the skin with the power of seriously calming and great smelling floral essentials mixed with our proprietary Vinoflora (pressed grape seeds and skins + botanicals and fruit acids).  

Just a few drops of this formula softens skin deeply, working on the delicate skin around the eyes, dry cuticles, or as a tonic for curly hair, beards/facial hair, and braids or dreadlocks.
Skin type: NORMAL or DRY
______________________________
Use and Details:  
Use as a moisturizer by itself for aging skin and dry skin or in combination with TONA or added to another light moisturizer for combination skin. Excellent hair tonic for naturally curly hair and for facial hair, from scruffy to full-bearded. For beards, this oil helps treat the skin under the hair, preventing in-grown hairs and acne. Great for moisturizing freshly shaved legs.
Ingredients:
Daikon radish oil, grapeseed oil, prickly pear oil, rosehip seed oil, and essentials of blue chamomile, yarrow, copaiba, fennel and blue tansy.