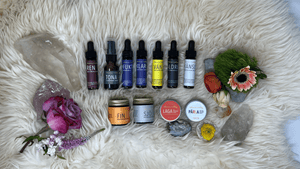 FULLÄNDA Library Collection
In Swedish, FULLÄNDA means "to bring perfect beauty". 
This collection features a "library" of our wild-harvested natural skincare, helping expedite your new connection with nature while taking superior care of your beautiful skin.  
FULLÄNDA contains our very popular agave nectar and rose-based face wash (REN), our kombucha and hops toner (TONA), our wild-harvested blue balancing oil (FUKTA),  our one-of-a-kind clarifying liquid clay (KLAR), and our oil-free smoothing, plumping and exfoliating serum with hyaluronic acid, konjac and citrus acids (VÄN), and our brand new luxury deep conditioning face oil with rose, sandalwood, argan + prickly pear (ÄLDRE).  It also includes our sugar and sea mineral body scrub (SJÖ), our super hydrating body butter (FIN), our woodsy and exotic intimate body oil (RÖR), and our two much-loved salves (LAGA and PÄRLA).  
FULLÄNDA Library Mini Collection contains these products for your sampling or traveling pleasure:
REN 
TONA  
FUKTA 
VÄN 
ÄLDRE 
KLAR 
LAGA 
SJÖ 
FIN 
RÖR 
PÄRLA