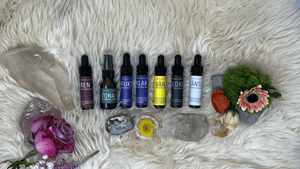 HÄRLIGT Stunning Face Collection
In Swedish, HÄRLIGT  means "gorgeous and stunning". 
This collection features a mini "discovery" kit of every bit of our wild-harvested natural skincare, for FACE. 
The HÄRLIGT Stunning Face Collection was made to help expedite your new connection with nature while taking superior care of your beautiful face.  
Every skin type is served by this kit, when items are mixed and matched and your routine is adjusted and refined as you go.  Try things at night, then during the day.  Blend oils, use KLAR under makeup to stem a breakout, test REN and KÄNSLIG (or a little of each) to determine what serves your skin best.  Use VÄN to soften and plump and ÄLDRE to deeply moisturize or soften around the eyes. Use TONA to refresh anytime or to skip a wash and go straight to a spritz + moisture from FUKTA.
HÄRLIGT contains our very popular agave nectar and rose-based face wash (REN), our kombucha and hops toner (TONA), our wild-harvested blue balancing oil (FUKTA),  our one-of-a-kind clarifying liquid clay (KLAR), and our oil-free smoothing, plumping and exfoliating serum with hyaluronic acid, konjac and citrus acids (VÄN), and our brand new luxury deep conditioning face oil with rose, sandalwood, argan + prickly pear (ÄLDRE) and our sensitive skin / anti-inflammatory wash (KÄNSLIG).
HÄRLIGT Stunning Face Collection contains these products for your sampling or traveling pleasure:
REN 
TONA 
KLAR 
FUKTA 
VÄN 
ÄLDRE 
KÄNSLIG