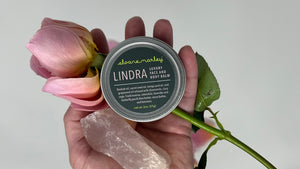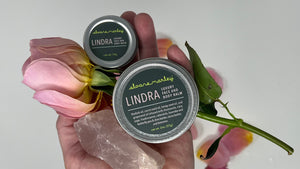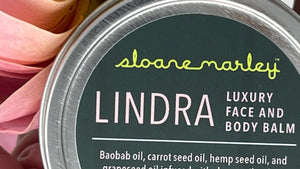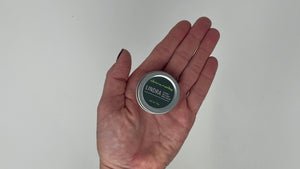 LINDRA Luxury Face + Body Balm
In Swedish, LINDRA means "relieve". This luxury face and body balm is a lifesaver for smooth, youthful, naturally glowing skin.  Made from some of the world's best plant oils and flowers, this jade-colored smoothing balm rehydrates and invigorates your skin.
LINDRA Luxury Face + Body Balm creates a natural boundary between the delicate skin of the face and environmental toxins and even makeup, helping your skin to remain balanced, moisturized, and free of the fine lines and dry patches which can make the skin look older or more damaged than it is. LINDRA creates a smooth, even surface before the application of makeup, with a baby-soft feel and no oily residue. 
Great in the morning on clean skin just before applying makeup, or at night after washing face and just before bed. 
A must-have for anyone who lives in a dry climate, or for cold and dry weather, or for anyone who wants their skin to be more full, plump, nourished, and protected. 
Alternative uses: dry cuticles, dry elbows, dry skin patches, and excellent on eczema. 
Skin type:  NORMAL to VERY DRY
_____________________________ 
Ingredients:
Baobab oil, carrot seed oil, hemp seed oil, and grapeseed oil infused with chamomile, clary sage, frankincense, calendula, lavender and butterfly pea, and Vinoflora + shea butter, cocoa butter, and beeswax.
Use and Details: 
First, "break the seal" by pressing your finger into the balm and making a dent. Use to spot treat very dry skin, or as an overall deep deep moisturizing treatment for the face and tender areas of the body.  Good for many skin types from normal to very dry.  Use ALDRË Deep Conditioning Oil and follow with LINDRA for a skin-quenching overnight treatment, or for dry or cold weather.  Soaks in completely, and wears well under makeup.