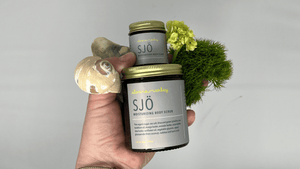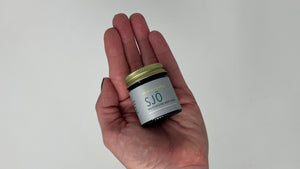 SJÖ Moisturizing Body Scrub
 In Swedish, SJÖ is the word for "lake".
Scrubbing the skin clean of impurities helps let new skin grow and let oxygen in.  Our SJÖ moisturizing body scrub made with lake and sea minerals, sugar, sea salt, and natural oils letting you exfoliate, nourish and moisturize your skin in one step. 
With essentials of vanilla, basil, and blue sage, your senses will be as refreshed as your skin.  SJÖ is made with living ingredients, and repopulates your skin's normal flora and restores skin's tone and texture as it cleans. 

Friendly note: green spirulina has a color and it's amazing for your skin.  When you scrub your hands, legs, feet, or body, a "residue" of green may remain with the plant butters on your skin.  Simply rinse off the sugars and salt with warm water, and when you get to the "moisture + spirulina streaks" stage, wipe your skin with a soft dry cloth or paper towel to remove the last bits of residue while leaving the moisture intact.  
Skin type: ALL 
______________________________
Use and Details: 
Use generously all over body, particularly on legs, feet, elbows, and hands.  Great following DIY projects, painting, gardening or for extra moisture on hands that have been overwashed or otherwise abused.     
Add FIN body butter after you rinse and pat dry for maximum moisturizing or add LAGA to seal extra dry areas like the bottoms of your feet.   
Ingredients: 
Fine organic sugar, sea salt, natural green spirulina, sea buckthorn oil, mango butter, avocado butter, cocoa butter, shea butter, grapeseed oil and vegetable glycerin.