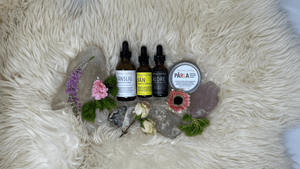 TJEJ Delicate Skin Collection
NEW!  Now with ÄLDRE Deep Conditioning Oil and our popular PÄRLA Crystal Infused Salve!  Perfect for dry or aging skin.
This smoothing and softening collection that takes your skin back to a state of grace.
The TJEJ Delicate Skin Collection lets you restore your skin's natural moisture balance and returns a natural dewy glow. Building moisture starting with a wash and adding blue oils to reduce inflammation and the power of botanicals, hyaluronic acid, citrus extracts, and Viognier to reduce discoloration while plumping, softening, and hydrating skin.   
The TJEJ Delicate Skin Collection is age-neutral and is perfect for any face that needs to rebuild a baby-soft base after being beaten by sun and weather and overuse of harsh artificial ingredients.  Bringing the anti-bacterial healing power of honey, the antioxidant powerhouse of our proprietary pomace fruit-juice ferment, malolactic acid, hyaluronic acid, and anti-inflammatory blue oils, this collection will lightly slough off dry and dead skin, treat dryness, and stave of skin eruptions.  
Use KÄNSLIG to clean, ÄLDRE  around eyes and on fine lines, and VÄN on the entire face.  For drier skin, use ÄLDRE  at night and VÄN during the day alone or under make up.  For oily or combination skin, use VÄN for moisture day mix VÄN and a few drops of ÄLDRE in for a lighter moisture balance.  
Skin type:  SENSITIVE, AGING or DRY
______________________________
Subscribe and save! 
Subscriptions are a commitment to a minimum of (2) cycles and you receive 15% off when you subscribe.  Choose your frequency: 30 days, 60 days, or 90 days, and cancel anytime.
30 days - good for (2) people with daily use 
60 days - good for (1) person with daily use 
90 days - good for (1) person with medium use
______________________________
Set Includes: 
KÄNSLIG Daily Cleanser 
ÄLDRE Deep Conditioning Oil   
VÄN Wildcrafted Botanical Serum 
PÄRLA Crystal Infused Salve