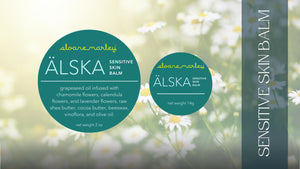 ÄLSKA Sensitive Skin Balm
In Swedish, ÄLSKA means "adore."
ÄLSKA is a wild-harvested, organic sensitive skin balm for chapped, cracked, sore skin that's safe for all ages from newborn to elderly.  It is infused with calendula, chamomile and lavender and does not contain any added fragrances or essential oils.
ÄLSKA is multipurpose. 
For for pregnant and new mamas, it is great for recovering bellies, boobs, cradle cap, lip balm, and dry hands.
For everyone else, it is an excellent sensitive skin salve for dry winter skin, skin abrasions and breaks, and for skin conditions on little kids - face, hands, feet, and more.
Made with gentle care, we've created this mix super soft for easy application and lasting moisture to work more effectively and resist moisture. 
Adore the moment.
Skin type: SENSITIVE
______________________________
Use and Details: 
Use generously.
Ingredients:
Calendula, chamomile and lavender infused grapeseed oil, shea butter, cocoa butter, beeswax, and our proprietary Vinoflora (pressed grape seeds and skins + botanicals and fruit acids).