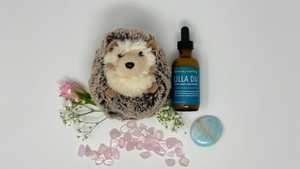 LILLA DU Gentle Baby Wash
In Swedish, LILLA DU means "little one". 
LILLA DU is perfection for people of all ages with very delicate skin.  It is ideal for sensitive skin, dry skin, and some aging skin as a daily face wash.  
LILLA DU is a handcrafted, organic gentle yet moisturizing concentrated wash developed for the most sensitive of skin. This wash concentrate is perfect for the newest of babies and is ideal for cleaning delicate areas. Dilute and use with cloth wipes while diapering, use in the bath, or for use on your face, hands and *everywhere* during tender days right after baby comes home.  
Made with calendula and chamomile infused grapeseed oil, olive oil castile, maple syrup, lavender hydrosol and our proprietary Vinoflora (pressed grape seeds and skins + botanicals and fruit acids), this softening wash is perfect in a pinch to add to a diaper bag or carry on bag.  
Skin type: SENSITIVE
______________________________
Use and Details: 
Use a small amount straight from the dropper combined with warm water as a wash for infants, same for crusty stuffy noses.  Use as needed in dilution for wipes.  We typically like a 1:4 dilution (1 part LILLA DU to 4 parts warm water) but it can also be used at full strength safely.  Avoid eyes for most comfort. 

Ingredients:
Calendula and chamomile infused grapeseed oil, olive oil castile, 100% pure maple syrup, lavender hydrosol, wine pomace blend, vegetable glycerin and pure aloe.