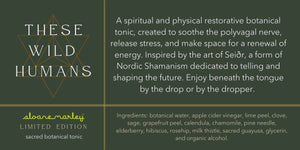 THESE WILD HUMANS Limited Edition Sacred Tonic
Soothe your nervous system, spirit, body, and mind. 
Limited Edition These Wild Humans Sacred Tonic

We have partnered with These Wild Humans, a sacred portal offering self-guided work and one-on-one coaching support. Learn more about Becoming a Wild Human, as it may interest you or someone you love.
This sacred space is about turning down the noise, letting go of the "to-do" lists, and returning to simple, sacred rituals and embodiment practices for the release of long-stored trauma manifesting as daily anxiety, exhaustion and stress.  
This sacred tonic assists with the daily practice of letting go of that kind of stress.
The sacred tonic is similar to our TÚ Tonic and is a spiritual and physical restorative, created to soothe the polyvagal nerve, release stress, and make space for the renewal of energy. Liquid is the soothing color of rose quartz.
*The statements made here have not been evaluated by the FDA and these products are not intended to diagnose, treat or cure any disease or condition. Always consult your favorite healthcare provider when taking new items, herbs, tonics, tinctures, etc. Breastfeeding and pregnant women should be extra cautious, read the ingredients list well, and do proper research before taking herbs and alternative medicine. 
Use and Details:  
Use over time is intended to soothe the polyvagal nerve, release stress, and make space for the renewal of energy. May also be beneficial to the liver, trauma stored in the body, and anger. 
Microdose (3 drops) under the tongue.

Macrodose (1-2 droppers) under the tongue.

Add to warm herbal tea in either dose.

Add to kombucha in either dose.

Add to clear clean water in either dose.

Use on pulse points or your third eye in meditation.

For greatest synergy, return the bottle to the bag with the stone for storage between uses.
Ingredients:  Lime peel, clove, sage, grapefruit peel, calendula, chamomile, pine needles, elderberries, hibiscus, rosehip, milk thistle, and sacred guayusa.
Only 20 bottles are available for Holiday 2023