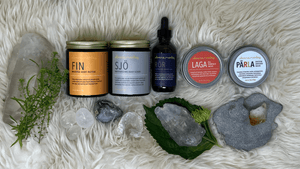 BEKVÄM Comfortable Body Collection
In Swedish, BEKVÄM  means "comfortable". 
This collection features a comforting set of our wild-harvested natural skincare, for BODY.  The BEKVÄM Comfortable Body Collection was made to help you feel truly comfortable in your skin.  
Every skin type is served by this body kit, when items are mixed and matched and your routine is adjusted and refined as you go.  Along the way, you'll fall in love.  Maybe with FIN, our whipped body butter.  Or maybe with RÖR, our spicy and sensual intimate body oil.  Scrub your feet or dry garden hands with SJÖ, rinsing the sugar and salt and wiping the last of the sea minerals for a nourishing finish.  Our LAGA soothes minor scrapes and cuts, is a wonderful lip balm, and works miracles on dry feet and hands.  our PÄRLA is a natural shimmer good for decolletage or legs in the summer.  Try things in a different order.  What will you run out of first?  Blend, mix, and match.  
BEKVÄM contains our sugar and sea mineral body scrub (SJÖ), our super hydrating whipped body butter (FIN), our woodsy and exotic intimate body oil (RÖR), and our two much-loved salves (LAGA and PÄRLA).  
BEKVÄM Comfortable Body Collection contains these products for your pleasure:
FIN 
SJÖ 
RÖR 
LAGA 
PÄRLA