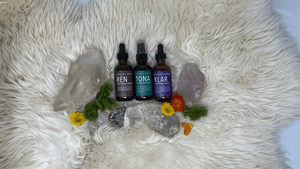 LÖSNING Clarifying Collection
This clarifying and balancing set puts you back in control of your birthright - clean, clear, problem-free skin.  
The LÖSNING Clarifying Collection gives you the ability to reset your skin's natural balance, removing toxins and debris and adding back a living layer of protection that fights against clogged pores and outbreaks.  This set is excellent for acne-prone skin, oily skin, teen skin, or any face that needs a hard reset from the skin that has been used and abused by artificial ingredients. 
Commercial products take away too much natural moisture and don't fully remove toxins, leaving skin exposed to invasion and overproducing sebum. 
Our products all build a foundation of healthy living ingredients that act like an army, fighting off eruptions and outbreaks with our proprietary Vinoflora (pressed grape seeds and skins + botanicals and fruit acids). 
Use REN to clean, TONA on a cotton ball to remove all toxins and leave skin with light moisture, and KLAR on its own overnight or under makeup, or mixed with TONA for a light moisturizer.  
Skin type:  NORMAL, OILY, or COMBINATION
______________________________
Subscribe and save! 
Subscriptions are a commitment to a minimum of (2) cycles and you receive 15% off when you subscribe.  Choose your frequency: 30 days, 60 days, or 90 days, and cancel anytime.
30 days - good for (2) people with daily use 
60 days - good for (1) person with daily use 
90 days - good for (1) person with medium use
______________________________
Set Includes: 
REN Daily Cleanser 
TONA Clarifying Toner 
KLAR Clarifying Liquid Clay