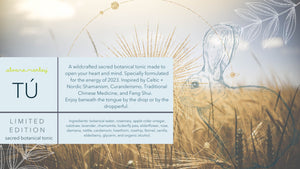 TÚ Limited Edition Sacred Botanical Tonic
In Swedish,  TÚ means "you".  
TÚ is a wildcrafted sacred botanical tonic made to open your heart and mind. Specially formulated for the energy of 2023. Inspired by Celtic + Nordic Shamanism, Curanderismo, Traditional Chinese Medicine, and Feng Shui.
Blended on the New Moon, the day before the Lunar New Year in Water Rabbit, and steeped in moonlight + aged in the company of large citrine, amethyst and jade stones, this tonic includes several plants grown and harvested in the SLOANE MARLEY gardens, and a blend of spiritual learning and herbalism. 
Small doses resemble the effect of a homeopathic flower remedy, and larger doses have a gentle easing effect on the digestive system, the nervous system and the lungs, offering harmony and relief from grief. Enjoy beneath the tongue by the drop or by the dropperful.  
This blend is also intended to help calm and balance the skin.
*The statements made here have not been evaluated by the FDA and these products are not intended to diagnose, treat or cure any disease or condition. Always consult your favorite healthcare provider when taking new items, herbs, tonics, tinctures, etc. Breastfeeding and pregnant women should be extra cautious, read ingredients list well, and do proper research before taking herbs and alternative medicine. 
Use and Details:  
Use over time is intended to create harmony, balance, release of grief, and forgiveness. This subtle tonic is also very restorative for stress and good for clear skin. 
Microdose (3 drops) under the tongue.

Macrodose (1-2 droppers) under the tongue.

Add to warm herbal tea in either dose.

Add to kombucha in either dose.

Add to clear clean water in either dose.

Use on pulse points or your third eye in meditation.

The accompanying raw crystal magnifies the tonic, and you can use it as a stone of meditation or a worry stone to fiddle with in your palm.

For greatest synergy, return the bottle to the bag with the stone for storage between uses.
Ingredients:
Botanical water, rosemary, apple cider vinegar, oatstraw, lavender, chamomile, butterfly pea, elderflower, rose, damiana, nettle, cardamom, hawthorn, rosehip, fennel, vanilla, elderberry, glycerin, and organic alcohol.